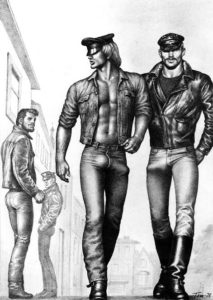 Tom of Finland Experience
Welcome to walk the streets once wandered by one Touko Valio Laaksonen who is much better known for his artist name -  Tom of Finland. Tom held residency in Helsinki for the major part of his life and during this time many important happenings took place in the capital of Finland.
Tom was not only a genius of erotic art but also talented pianist therefore we start the Tom of Finland Experience with a music-driven audiovisual presentation showing a retrospective of his career with interview clips where Tom talks about his inspiration and meaning of his art. This takes places at Klaus K hotel premises where you will learn a whole meaning of Tom´s story and enjoy drinks, Tom-style!  
Touko´s story has got him far. For example, the Tom of Finland stamp is the most preordered stamp in the world and there is a quality art roast coffee developed for him by Paulig. When he settled to Helsinki after the Second World War life surely was different than now, 2017!
2017 is important year for Finland as anniversary of its 100 years of independence but also a proud moment for our society when same sex marriage finally became legal reality. Helsinki as a city is also known as one of Europe´s gay friendly destinations. It hasn´t been always like that and we also like to show you the positive change by visiting places that are nowadays used by the locals like Kansalaistori (People´s square) in front of the Parliament that once was a clandestine meeting point for gay men.
We also visit various places where you can see Tom´s art becoming part of our popular culture.
PUBLIC GROUPS EVERY FRIDAY AT 5.30 PM (reservations by email at 9 pm the night before the tour the latest)
PRICE: 45 EUROS / PERSON
INCLUDED: GUIDING, AUDIOVISUAL PRESENTATION, TOUR GIFT AND TOM OF FINLAND STYLE DRINKS! 
AGE LIMIT: 18 years
RESERVATIONS: happyguidehelsinki@gmail.com 
You can also use TIKETTI to buy the tickets!
Private groups available daily in English, Finnish and Spanish. Send us an email for offer.
Tom of Finland Experience is produced together with Stopover.fi and Tom of Finland Foundation. 10 % of every ticked sold will be donated to Tom of Finland Foundation. Together we raise our flag for happiness and freedom! 
Visit Tom of Finland Foundation official site
Tom of Finland Experience Facebook page for photos and special events 
#tomoffinlandexperience !!