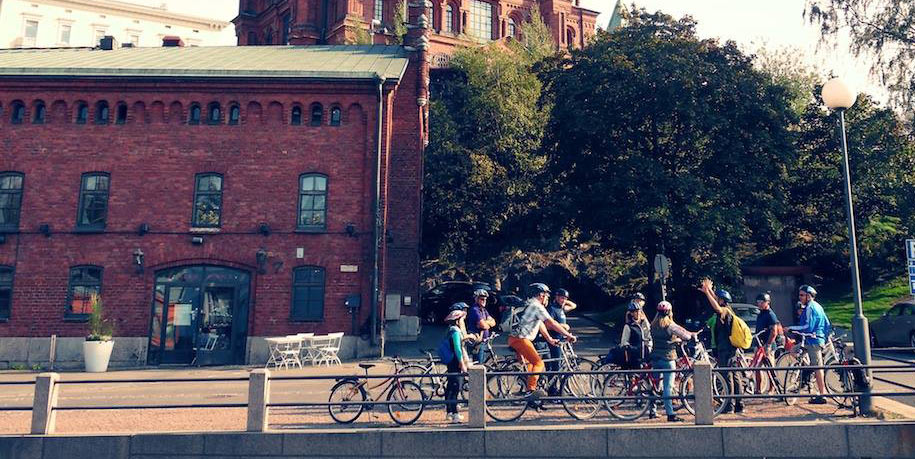 About Us
Happy Guide Helsinki offers guide services in Helsinki, Southern Finland and Turku. We have a wide selection of daily public services to customized private tours available all around the year.
With Happy Guide Helsinki you can experience the main attractions but also the real Helsinki along with its many secrets. Whether it is a happy walk, an entertaining bike ride, a tram sightseeing, an accessible tour, program for your stopover or a focus on a specific theme such as design, food or sauna, we have it all for you!
Experience the local lifestyle
Touring with us you can quickly feel and see how people live here and enjoy  the local lifestyle. At the same time we will introduce you to different aspects of Finnish culture including the history as well as the urban life of Helsinki. A part of our promise is to keep it fun all the way!
Sustainable from start to finish
We are a sustainable and eco-friendly company meaning all our tours are conducted either by walking, biking or public transport from a pre-defined meeting point.  We do not organize pick-ups by car or a bus, because we want to minimize the environmental impact. The only exceptions for this policy are our accessible tours for people with limited mobility.
Happy guides, happy customers!
All our guides have their own personal interests and expertise. And they love to share it with you in a fluent and positive way typical to each one of them. Because of our company philosophy, we have earned countless excellent reviews from happy customers on TripAdvisor and Like A Local Guide websites as well as in Facebook.  See it for yourself!
A family of professionals
Happy Guide Helsinki is a service brand of Hassu Tours Helsinki. Our company ID (y-tunnus) / VAT code is FI13680260. All our services are produced with ultimate professionalism and with the safest way possible. We follow the laws of Finland and respect the commonly known regulations in Finnish (traffic) culture. All our guides are especially trained for that - to make your visit safe, comfortable and happy!