Customized Services
Happy Guide Helsinki specializes in customized and private tour services in Helsinki and Southern Finland. With a personal service approach by our reservations and customer team, it's our honor to tailor you a tour that looks and feels like you. For everything there's a sunny and sustainable solution!
Private guide is always the most unique way to experience place like the locals. We have plenty of sustainable and sunny services you can combine to make your visit one to remember. Have a look at the selection below!
Contact us to tell about your interests and wishes. It's our pleasure to tailor a guided service the most suitable for you. We are happy to show you fun in sunny and sustainable ways!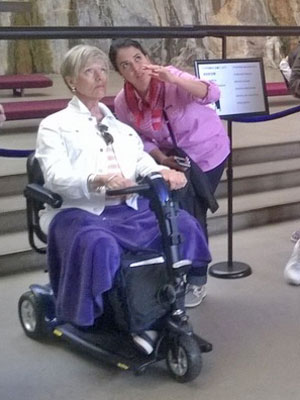 Accessible Tours in Helsinki and Southern Finland
Accessibility is generally on an excellent level in Finland. We are also happy to say that all the major attractions of Helsinki are accessible with wheelchairs and mobility scooters. Our public transport is also accessible with low floors and ramps. │ Read more on www.accessiblehelsinki.com!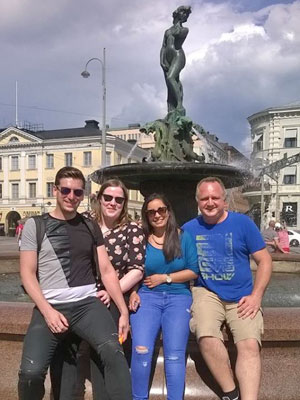 A Private Walking Tour
We have guides available who speiak English, Finnish, German, Italian, Polish and Spanish every day the whole year around. We offer city walks as well as theme tours from topics like design, food and horror ‒ or mixes of them! │ Read more on www.walkingtourshelsinki.com!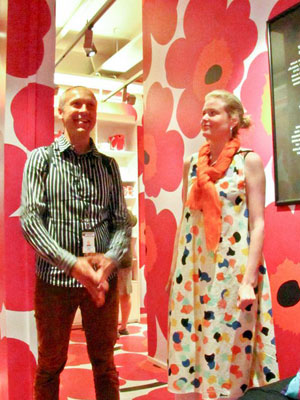 Architecture & Design Tours
Helsinki has one of the biggest design districts of the world. Actually the whole history of our nation can be fluently told through the architecture of buildings in Helsinki from neoclassicism to modern wonders.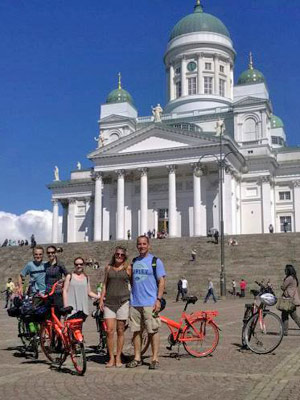 Bike Tours
Helsinki and its surroundings together are the most comfortable area to go around by bike. Only the city itself has 1000 kilometers of biking lanes and is built around big parks. │ Read more on www.biketourshelsinki.com!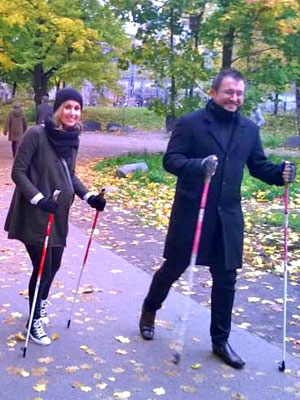 City Nature Experiences
We can also take you to nature's lap for example with Nordic walking sticks or by fat bikes. Helsinki is a city where the urban environment is always also green!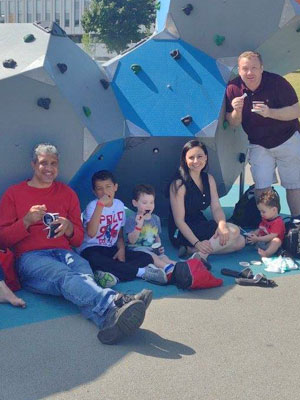 Finland for Families
How about hearing the story of Helsinki and our 100 years old nation while admiring all the numerous and interesting animal statues of the city? A tour that keeps the whole family interested and enjoying the visit.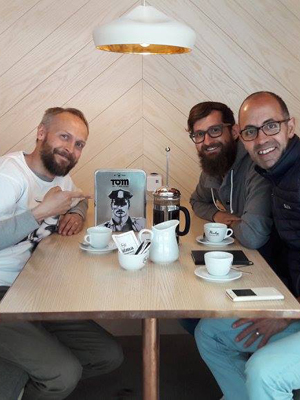 Gay & LGTB friendly activities
Helsinki is the city where Touko Laaksonen, better known with his artist name Tom of Finland, lived his whole adult life. We are happy to show you Tom´s secret city as well as the modern gay and LGTB friendly capital of Finland!│ Read more here!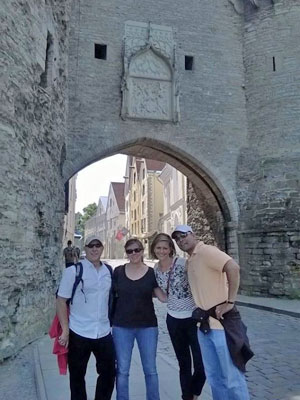 Helsinki-Tallinn Day Trip with a Personal Guide
We are happy to visit Tallinn in Estonia with you for a day. Your guide picks you up from the hotel and takes care of all the formalities as well as an enjoyable guided walking tour in Tallinn.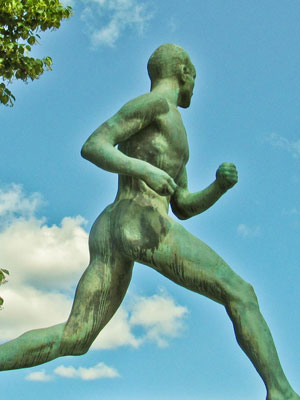 Jog & Sightseeing
What would be a better way to sightseeing than jogging? We keep a friendly pace, so you can enjoy attractions and stories besides your light exercise.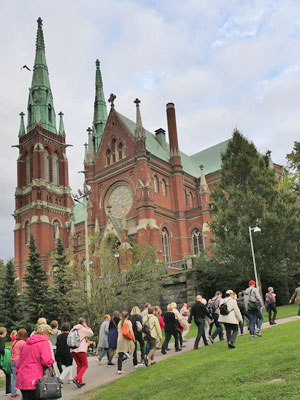 Services for Religious Groups
Interested in taking a Christian pilgrimage to see Pope Francisco´s forest in Porvoo? Or finding out religious curiosities of our nation 500 years after the Protestant Reformation? Also if your group needs professional help in organizing halal / kosher / vegetarian meals and special visits, we are always honored to help you.
Sauna Tours
In this sauna-frenzy nation, we can find you a sauna to visit almost any hour of the day. You should not leave the country without visiting a Finnish sauna! │ Read more here!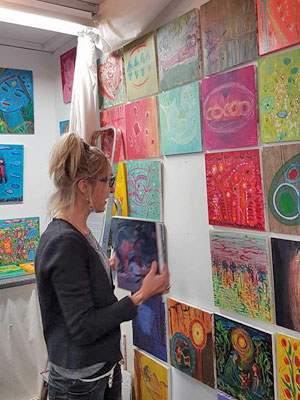 School Visits
We work together with several schools, universities and the Ministry of Education to organize educational visits in Finland.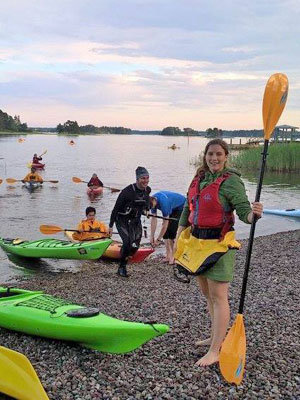 SUP Boards & Kayaks
Paddling in the calm waters of the Baltic Sea or one of our thousands of lakes can be considered a real genuine experience. This is easy to mix with another activity like bicycling.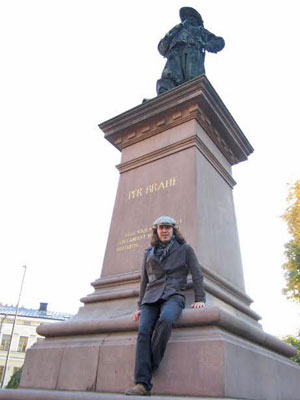 Take Guide Turku
We offer guided visits in the most historical city of Finland. Our local Turku guide is also happy to show you the modern city life as well as give tips on what to do after your time with us! │ Read more on www.guideturku.com!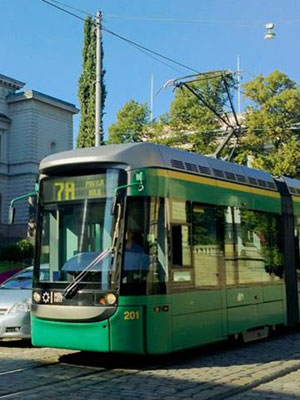 Tram & Public Rail Tours
Public transport in Helsinki is very effective and eco-friendly and we are happy to enjoy it as part of our tour services. Many of our tours include the public transport day passes and for bigger groups we can even hire a private tram! │ Read more on www.tramsightseeinghelsinki.com!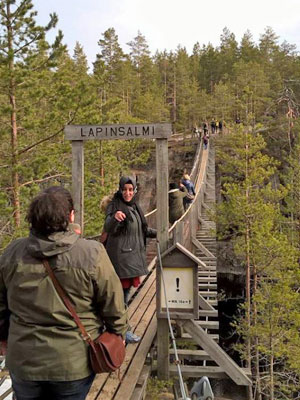 Verla Unesco Site with Repovesi National Park & Porvoo Day Trips
Just some hours away, we have several Unesco World Heritage sites to visit and awesome nature to experience. Porvoo is a small, world-famous wooden town only 60 km / 40 miles away from Helsinki.
Combine & customize!
Do you want to mix it all together or think out-of-the-box? Tell us about your interests and wishes and we are happy to make suggestions to you. Contact us and we will answer in 24 hours!